Amazing Space is built on a desire to design pure products based on natural ingredients. Nature is our most important supplier of ingredients, which is why preserving and giving back to nature plays a major role in our business. It is an honour to collaborate with initiatives and organizations that are striving to create a sustainable future where we all live in harmony with nature.
By donating 5% of the profits in the "Sweet Charity" series to the WWF towards saving our nature, and the Chimalaya Charity to reduce child mortality in Nepal – we can support causes that reflect our values.
Read more about Amazing Space
Sweet Charity - WWF & Amazing Space
- We light up for a good cause!
Our nature and climate are threatened. Rainforests disappearing, seas polluted and greenhouse gas emissions wreak havoc with our climate. The unique natural areas and animal species of our world are endangered.
WWF is working towards a sustainable future where man lives in harmony with nature and fragile ecosystems. These are initiatives and core values ​​that we support, so Amazing Space is a corporate sponsor for WWF, allocating 5% of profits from the sale of each product from "Sweet Charity", our range of organic scented candles, perfumes and diffusers for the home.
Crafted from pure, plant essential oils and waxes – you can literally light candles for a good cause. Sweet charity candles and diffusers are perfect as host or hostess gifts, that benefit both recipient and WWF and communicate the mission.
At Amazing Space, we have faith in WWF, as one of the largest and most respected, international nature conservation organizations in the world, and at the forefront in the development of a healthy future for our planet.
Nature is our most important gift and greatest source of inspiration, and we must do our best to protect it!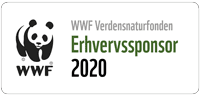 An organic changing bag for your baby and you
- and for a mother and her newborn in one of the world ́s poorest countries
Chimalaya Charity has joined forces with Cam Cam Copenhagen and Baby Space by Amazing Space, two sustainable Danish brands. Together we have produced a changing bag containing organic quality products to help a mother and her newborn baby during the baby ́s first months. At the same time, the bag lends a helping hand to a mother and her newborn baby in Nepal. Every time a changing bag is sold, a mother in Nepal receives a Bag4Life and a visit by a health nurse, which has a value equal to 40 EUR.
Bag4Life is a concept developed by Chimalaya Charity to improve conditions for newborns in Nepal. Nepal has one of the highest infant mortality rates in the world caused by malnutrition and poor hygiene. Chimalaya Charity ́s trained health nurses carry out home visit right after birth. The nurses provide help with breastfeeding and knowledge about health, nutrition and hygiene. During the first visit, the mother is given a Bag4Life – a locally produced changing bag containing important remedies such as a thermometer, disinfectant, soap, a changing mat, cloth nappies, clothes and toys.
Om Chimalaya Charity
Chimalaya Charity is a Danish / Nepalese NGO, founded in 2010 by psycho-therapist Pia Torp. Its aim is to support mothers and give newborns the right start in life by fighting malnutrition.
In 2013, Pia Torp and Chimalaya Charity went into partnership with two Nepalese doctors and researchers, Ram Krishna Chandyo and his wife Manjeswori Ulak. Both are educated in western Europe, but have returned to their native country to improve the health of the local people. With the help of the local community, they set up a mother group clinic in in Bode / Thimi just outside the capital Kathmandu. The clinic, which is at the heart of our work, covers an area of approx. 25,000 inhabitants. The area consists of smaller towns with many carpet and brick factories where the women carry out hard physical labour. To many locals, the clinic and its staff provide a safe and familiar environment, which makes it easy to reach out to the most vulnerable people.
"Improving Maternal and Child Health" is Chimalaya Charity´s overall objective. Its aim is to reduce malnutrition and promote child health and development through empowering and training mothers and their families. We want to ensure that the mothers are healthy before and after giving birth, that more newborns survive, and that the negative growth curve in children under five years is reversed.
In 2016, Chimalaya Charity became a NGO in Nepal and fully focuses on fighting malnutrition.
Chimalaya Charity´s philosophy and views on humanitarian work
Local needs are the basis for our work on mother and child health. The overall framework of the project builds on mutual professionalism and cross-border exchange of ideas. The concept of mother groups comes from the Nordic countries, but the model has been adapted to Nepalese conditions in order to optimize the outcome.
The two head doctors of the clinic, Dr Ram Krishna Chandyo and Dr Manjeswori Ulak, are both educated in Norway. They are affiliated to the Center for International Health (CIH) in Bergen, which works to improve the health situation in low-income countries.
CIH also facilitates international collaboration and research. This means specifically that the clinic has access to the latest research on malnutrition. The clinic also welcomes students from Global Nutrition from Akershus, University of Oslo.
Our project includes ongoing capacity building and training of local health workers. We aim to involve the entire community in our work, e.g. educating school teachers to keep an eye on vulnerable children, and whenever possible, the whole family. The clinic's employees work closely with the municipality, who has made their property available to us.
Our work to reduce malnutrition is carried out in a reliable and easy way that in time can be adapted to other areas.
We would like to see the clinic develop and become a research and resource center collecting information about early childhood development and healthy nutrition.