For you who want to do even more for the feeling of increased energy, well-being and healthy, beautiful appearance, then you can go the detox way. Detox is an abbreviation of the word detoxification and means removing potential toxins from the body as well as cleansing the body of waste products and cultivating an internal and external health. Many experts confirm that much of the food we eat today contains toxins of various kinds, which accumulate in the body. This means that we experience an energy level that is too low, that our body is weakened and our appearance affected as well. The idea of detox is that you cleanse your body of all waste products
and in other words, the accumulated toxins are emptied from the body so that the body after cleansing can be rebuilt and strengthened.
Detox cures are found in many shades, and many of them stress and torment my body in my opinion. Therefore, even I, live by a detox philosophy where there are no extreme restrictions in my everyday routine, and where the detox philosophy is neither harsh nor exhausting to follow. On the contrary, I experience my detox living rules as a welcomed choice of a healthy lifestyle that raises my vitality levels in so many ways, because I accommodate the most fundamental of my body's need. I get more energy, a more beautiful look and a calmer mind. The body simply gets better both internally and outside.
You can choose to live by the detox philosophy as a lifestyle the entire year, but you can also choose to live by it for periods. That just requires that you plan your everyday life thoroughly, so that you can live up to the plan.
Here we will present a detox course with self-pampering care rituals and cleansing herbs.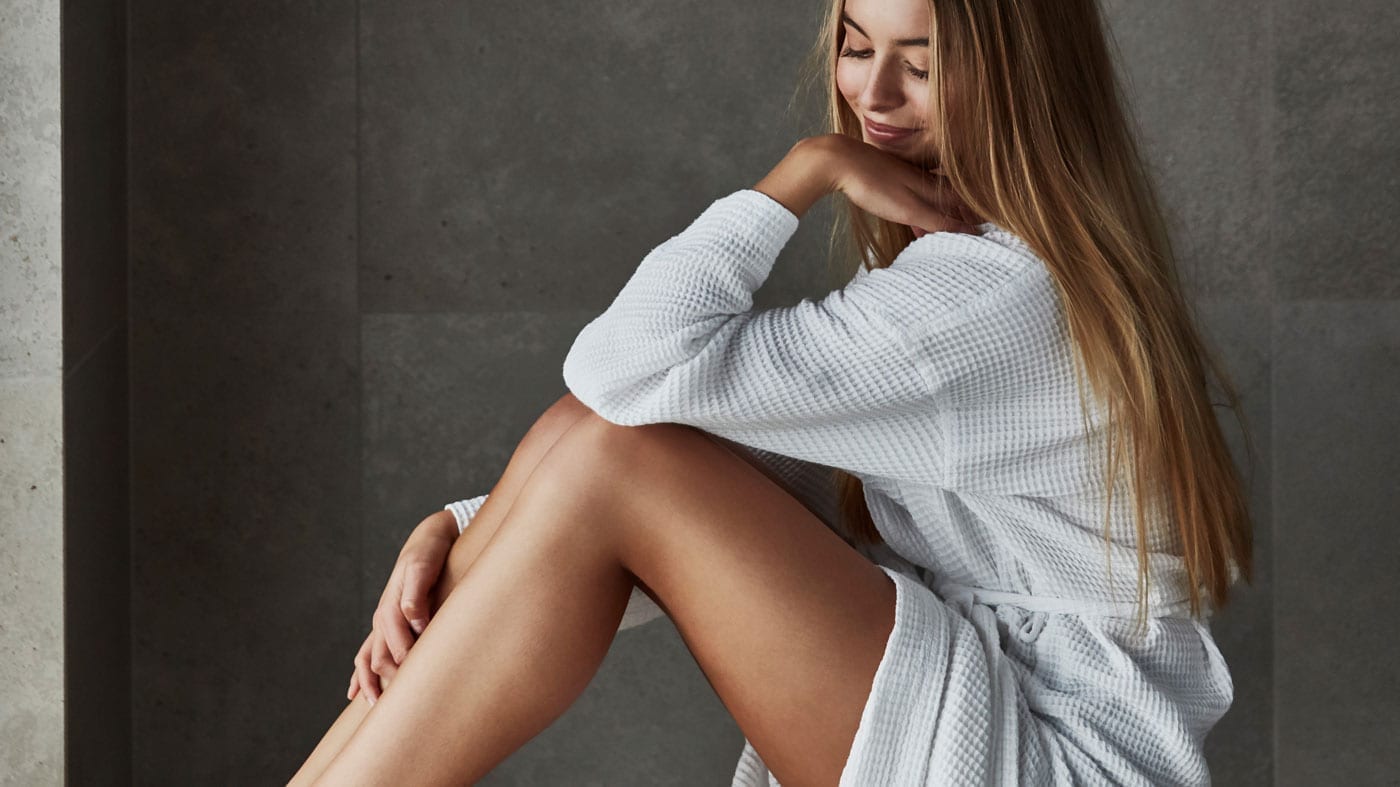 Detox Cure In 3 Steps
Give yourself time for a health-promoting boost that beautifies inside and out. The cure fills the body with energy, boosts the immune system and promotes good self-esteem.
With Amazing Detox Camp, you strengthen both body and skin with organic vitamins, minerals, salts, antioxidants, vegetable extracts and herbs that have a cleansing effect both in the form of active supplements and effective care rituals!
STEP 1. DAILY ENERGY KICK
SKIN NUTRITION – ALL IN ONE, VITAMINS & MINERALS
The Skin Nutrition is designed as a treatment cure based on 1 tablet taken daily for 3 months. If you want to ensure that you get an even and optimal amount of vitamins and minerals, it is a good idea to have a vitamin and mineral supplement daily. Choose organic types to get the best quality and the greatest uptake in the body. Lack of different micronutrients can cause imbalances and skin problems. The tablet consists of all active vitamins, organically bound minerals and vegetable extracts designed to improve the skin and to help maintain skin condition and connective tissue.
STEP 2. WEEKLY BODY POLISH
BLACK CLARITY – CHARCOAL BODY SCRUB
With activated carbon, that deeply cleanses the body by "polishing" the dead skin cells away and promotes cell renewal, the deep cleansing charcoal absorbs impurities, cleanses the pores and is known for its detoxifying effect on both the body and the skin. Used 1-2 times a week. Apply to moist skin while massaging in small circulating motions. Allow the product to work for a few minutes for extra nourishing effect and remove with water or a damp washcloth. Suitable for all skin types.
Feel free to use a bath oil after body polish. Always remember to apply the oil on damp skin, as it is most easily absorbed this way.
STEP 3. DETOX & ANTI-CELLULITE MASSAGE 
DETOX & ANTI CELLULITE OIL – DRAINING & SLIMMING EFFECT
Cleansing, essential oil cocktail with detoxifying effect. Acts as antiseptic and draining while accumulating waste products and liquid. Effective against cellulite and as an aid against fat deposits during dieting. Eucalyptus improves circulation, therefore, can be used by anyone wishing for a lighter feeling in the body. Use morning & evening for the fastest result and as a concentrated cure of 4-12 weeks duration. Massage the oil daily on moist skin after bathing with the Gua Sha technique.
AGATE – DEEP BLUE – BODY GUA SHA
The blue agate stone is useful for deep strokes on the whole body for the cleansing and beneficial effect. The wavy side is used for deep massage of tensions and myoses. Is good for hard cellulite and accumulated waste. Apply the oil and use the stones in simple long strokes on the whole body towards the heart.
INNER DETOX
Drink 2 liters of fluid a day. Start the day with a glass of lemon water, if desired, add apple vinegar cider and a healthy cosmofusion made of fresh vegetables and fruits. Mornings are important, as you mentally set the tone for the rest of the day. And we are so cunningly designed that we prefer not to ruin a good start to the day by doing something that is bad for us. Conversely, if we begin already in the morning with croissants for breakfast, it is harder to motivate ourselves to eat healthy the rest of the day. Limit your coffee to before breakfast and a maximum of 1-2 cups. Replace coffee with tea the rest of the day (herbal, white or green).
Tip! Caffeine limiting will strengthen your well-being. Coffee provides only short-term energy and can subsequently trigger fatigue, headache, irritation or nervousness. Replace with invigorating and tasty tea of, for example, fresh licorice root and mint.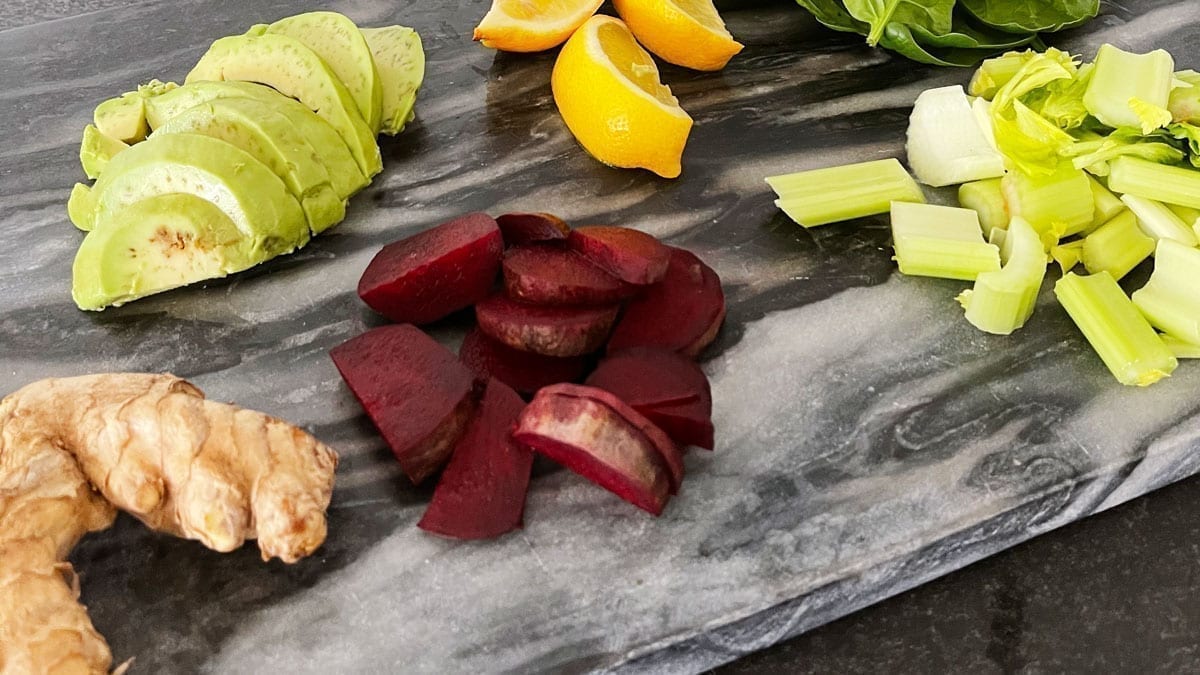 RECIPE
BODY CLEANSE – COSMO
With avocado, celery and spirulina
Green drink made from cleansing vegetable ingredients and seaweed, which stimulates cell metabolism and has a draining effect on accumulated fluid and waste products in the body.
Ingredients:
A large handful of fresh spinach and kale
A raw beetroot (freshly chopped)
2 pcs. celery sticks
1 avocado
1 grated lemon peel
1 tsp. spirulina powder (green algae powder)
Dilute with water or organic apple juice
Add some finely chopped ginger and crushed ice
Everything is finely chopped and blended to the desired texture depending on the amount of liquid added. The advantage of the blended beverage, as opposed to beverages made in a juicer, is that you preserve – and enjoy the fiber content.
10 good living rules that boost the internal cleansing
Drink your vegetable juices a little before the main meals, thus, stabilizing your blood sugar and avoid overeating.
Perform exercise that raises your heart rate for at least 30 minutes each day. Choose a sport that makes you happy, for example powerwalk, tennis, dancing, horseback riding, yoga, golf, swimming or running in nature, bike to work, play football with friends, or kickball with the children.
Eat three main meals – at the latest 6PM. Eat predominantly vegetables for every main meal.
Eat three high-fiber, green snacks per day, containing for example, wholewheat bread with carrots, cucumbers, peppers, celery, cauliflower or fresh fruit.
Choose fish and poultry of good organic quality and save on the fattier animal meat. Introduce more vegetarian days a week.
Choose coarse fibers by replacing regular rice with brown rice, pasta with whole wheat pasta and light bread with dark.
Choose low-fat dairy products and eat organic chicken eggs several times a week.
Minimize your alcohol intake. Prioritize good quality in small quantities and what you like best, for example red wine, champagne or white wine for special selected occasions. Adhere to the Danish Health and Medicines Authority's recommendations for a maximum of seven servings per week, while also having completely non-alcoholic periods.
Do not deny yourself, but choose the unhealthy calories carefully, for example, your favorite chocolate or ice cream dessert. Save the unhealthy for specially selected occasions once or twice a week… And ENJOY it so!
Last but not least, prioritize your 8 hours of sleep highly! If the body needs to cleanse from the inside, it requires recovery time while resting. At the same time, avoiding the hours in the evening where the so-called "sugar craving" can easily occur due to fatigue.
TIP! Replace sweets with the popular hot drink "Pureness Herbal Infusion" containing licorice root and anise. The drink is not only tasty, but also has the added bonus of draining excess fluid and waste products while counteracting edema with the help of fenugreek seeds and fennel.