Cosmofusions are beauty and health-promoting drinks made from fresh fruits, vegetables and cold pressed plant oils and herbs – a kind of liquid raw food. The drinks boost your immune system and are great for the whole family at this very time when we need it the most. Preferably, you should drink cosmofusions daily. They are optimal as snacks at any time during the day.
You can prepare cosmofusions in less than five minutes. All you need is fresh produce, vegetable oils, crushed ice and a blender. The drinks provide energy with a high content of vitamins, minerals, antioxidants and fatty acids. In addition, cosmofusions are an optimal and easy way to get today's intake of vegetables, as it takes much longer to eat through the recommended and health-promoting amounts of greens in the diet. Furthermore, a cosmofusion acts as a fast energy injection.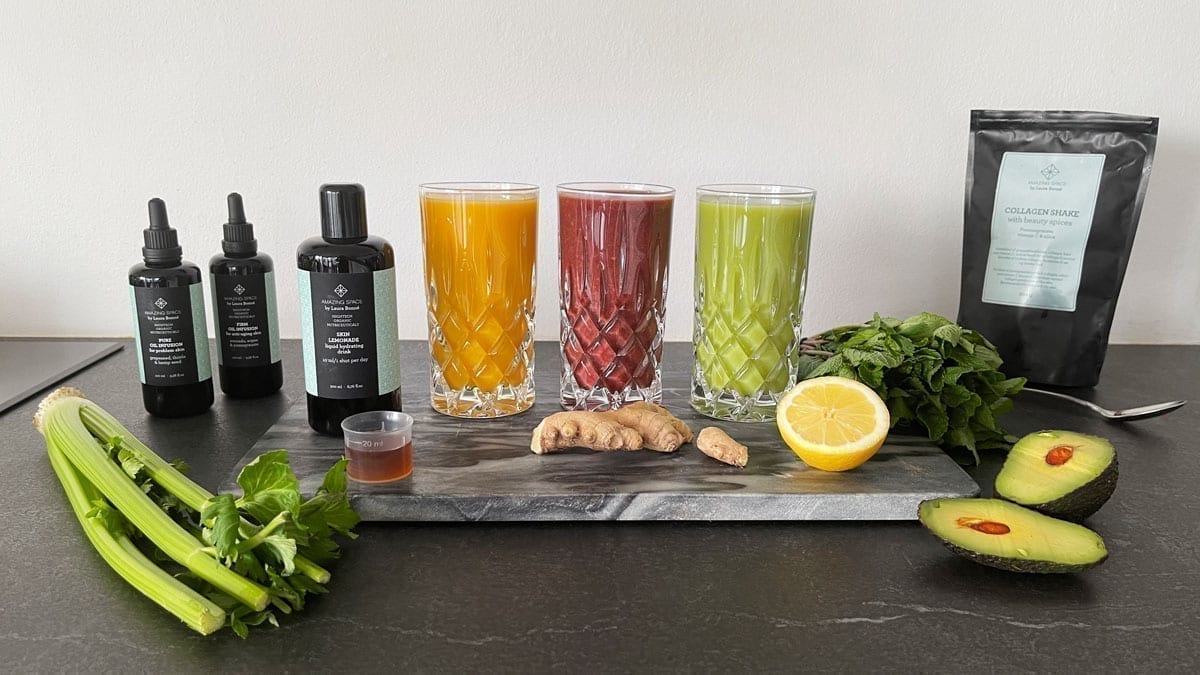 Add Skin Food or Oil Infusion based on your needs and skin type.
You can add extra of the essential omegas that strengthen the skin, bones, joints, brain and nervous system from the inside.
Try 1-2 teaspoons of Skin Food is a multi-supplement that embraces all fatty acids 3,5,6,7,9 in a customized daily dose.
For internal skin care, you can also choose to add our facial concentrates called Oil Infusions with different effects.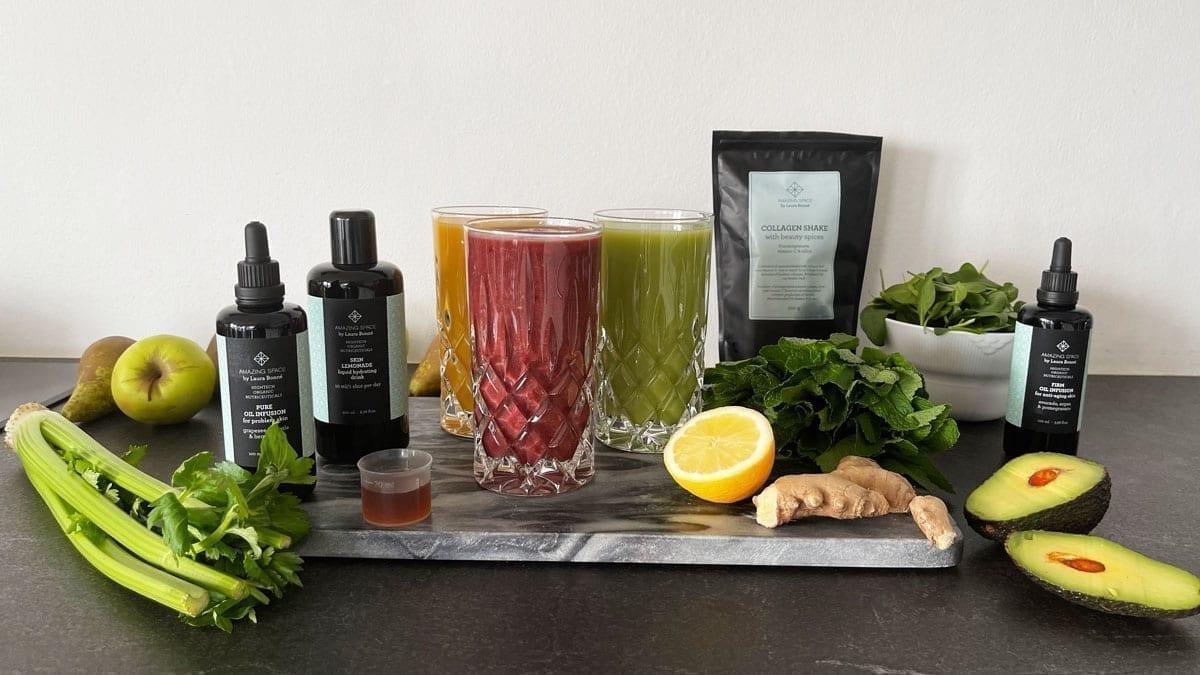 Add Oil Infusion (1 tsp) with omega 3, 6.7, 9 and antioxidants according to your skin type:
Delicate skin: sea buckthorn, apricot kernel oil and inca omega
Dry skin: argan, avocado oil and inca omega or apricot kernel oil
Oily Skin: hemp seed, grape seed oil and inca omega
Mature and aged skin: pomegranate, avocado oil and inca omega
Problematic and blemished skin: hemp seed, grape seed oil and inca omega
Combined skin: macadamia, apricot kernel oil and inca omega
DETOX COSMO
With green cabbage, spirulina and green grapes.
Green beverage made from cleansing vegetable ingredients and sea algae that stimulates cell metabolism and acts draining on accumulated fluid and waste in the body.
Ingredients:
A handful of fresh spinach or green cabbage
1/3 cucumber
2 celery stalks
10 green grapes
Grated lemon peel
1 tsp. spirulina powder (green algae powder)
Slightly chopped ginger
Crushed ice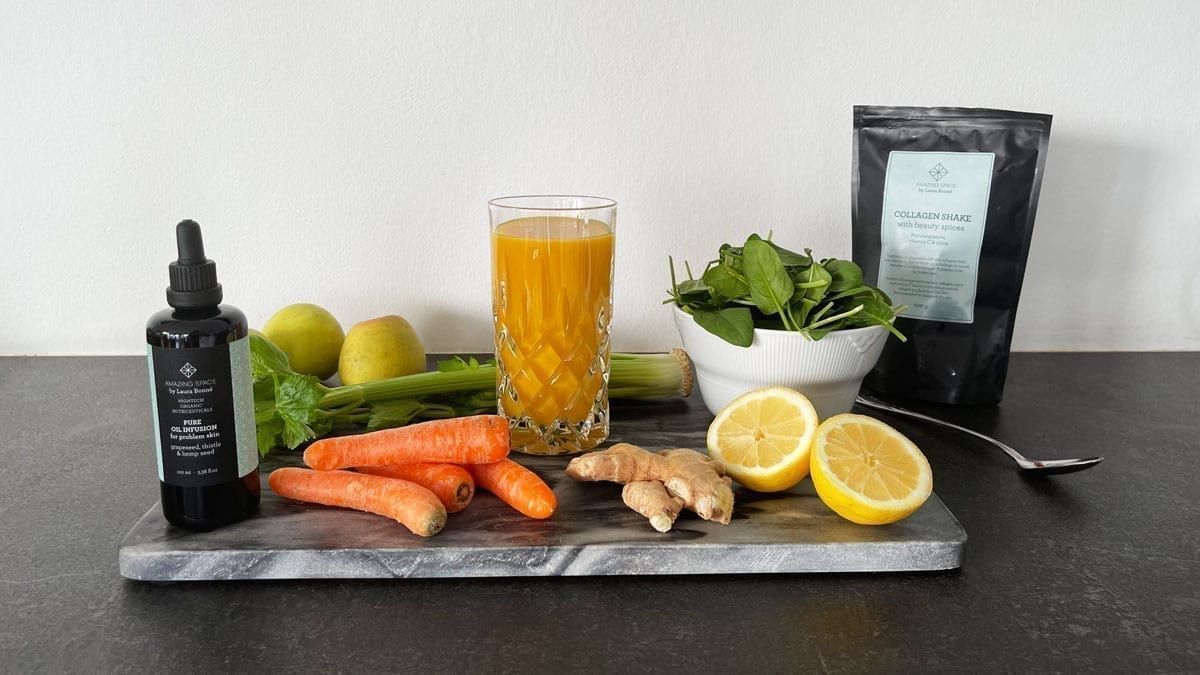 ANTI-AGE COSMO
With berries, pineapple and soy milk.
Beverage made from ingredients rich in enzymes, fruit acids (AHA), antioxidants, vitamin A that tightens the skin, and vitamin C that promotes connective tissue formation.
Ingredients:
1 cup soy milk or almond milk
1/4 pineapple
1/2 mango
1 handful of berries (frozen or fresh)
1 cup orange juice
1 teaspoon of green tea
Add Collagen Shake
Enjoy with dark chocolate!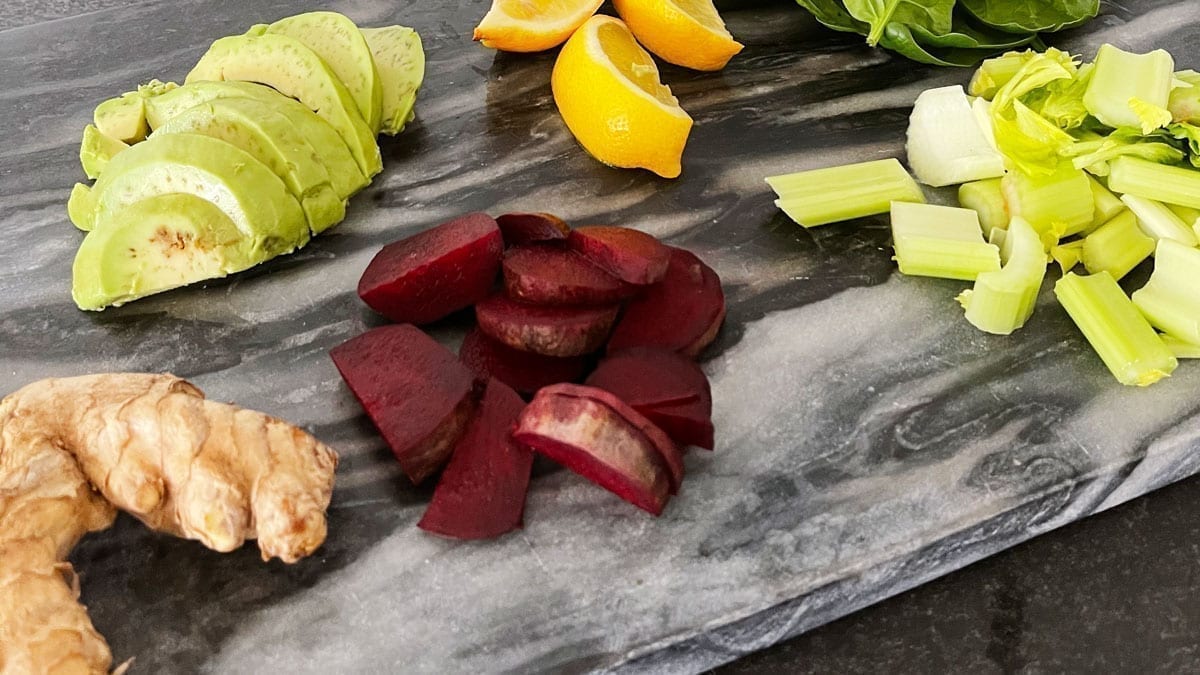 GLOWING COSMO
With beetroot, seabuckthorn, apricot and ginger.
Produces beautiful, golden glow and complexion, that with its high content of the precursor to vitamin A, namely beta-carotene, fiber, antioxidants and beets, increases the absorption of oxygen into the tissue.
Ingredients:
2 carrots
2 apricots
2 beets
1 apple
1 dl sea buckthorn (fresh or frozen)
2 dl fresh orange juice
Ice cubes
Some fresh ginger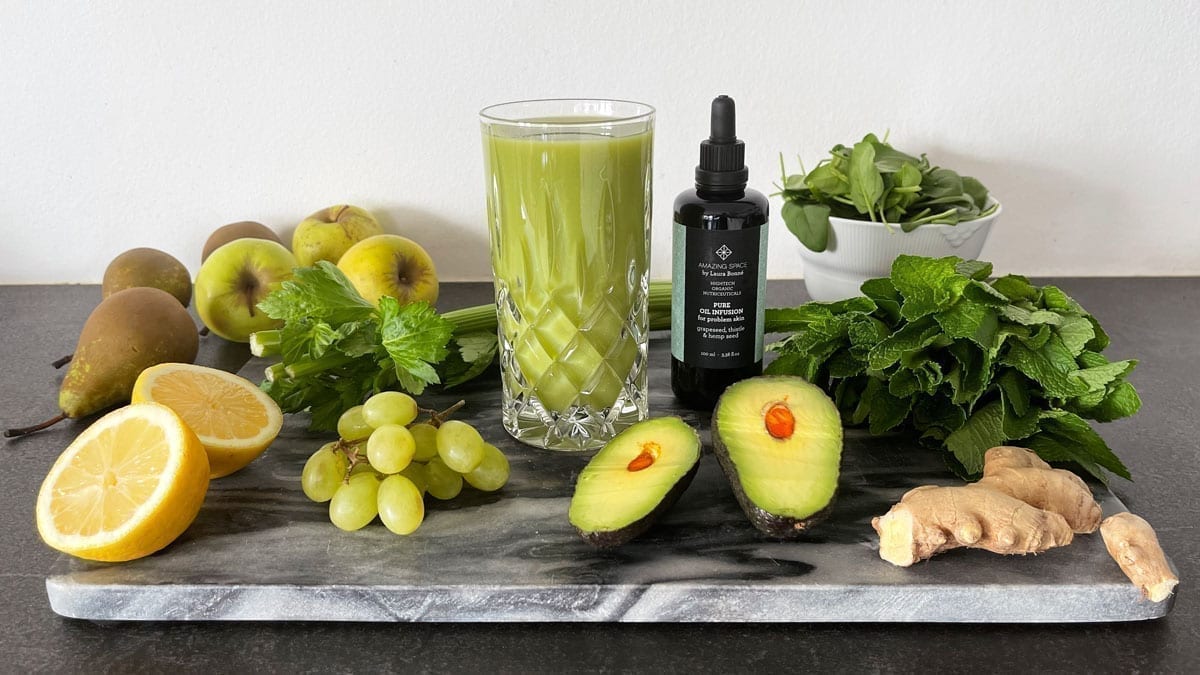 ANTI-OXY COSMO
With avocado, blueberry and green tea.
Nutritious beverage with healthy omega 3, 6 and 9 fatty acids, regenerating lipids and antioxidants.
Ingredients:
1 avocado
Kiwi
1 cup coconut milk
1 handful of blueberries (frozen or fresh)
3-4 almonds
1 cup orange juice
Crushed ice
1 teaspoon green tea
Add Skin Food – Multi Omega Oil
Extra Ingredients For Your Cosmofusions