Amazing Space holistic universe encompasses a huge range – from skincare, body care, fragrances, makeup and supplements. It can be difficult to choose what you need! Here is some inspiration from our team of professional skin care specialists, that highlight their own favourite amazing products.
Miracle Mask
I am a big advocate for our professional peels. That you can work concentrated on problem areas, such as, wrinkles, pigmentation, pore minimization and glow. A skin renewal treatment with both long term and here and now effect – blends according to customer needs. Highly recommendable and best with subsequent treatments in accordance with what you want to achieve – a product I have had great results with myself.
Collagen Shake
In addition, one of the absolute essential things for me is supplements – the inner skin care is crucial for optimal results. Our collagen powder strengthens connective tissue, gives a glow, reduces cellulite and minimizes pores and wrinkles.
My favorites currently are Miracle Mask and Bio-cell Face Wrap. They save me every time! I always thought it was a "bad excuse" when people said they didn't have time for skin care after having children. Well, during my maternity leave, I understood! But with the combination of these two power products, I quickly rectified the gray and lifeless skin.
Miracle Mask
Miracle Mask is an active fruit acid peel that stimulates and boosts cell production, so I get both a new glow and smoothened skin. At the same time, it also helps the skin absorb moisture better by removing dead skin cells.
Bio-Cell Face Wrap
Bio-Cell Face Wrap is an absolutely fantastic "Cinderella" mask, which also smooths and moisturizes the skin with hyaluronic acid and vitamin C, as well as, strengthens and protects the skin as it is a powerful antioxidant.
I turn my bathroom into a mini spa 1-2 times a week and use these 2 favorite products that I just love in my range of other great products that I also use.
Beauty Butter
It has an absolutely fantastic scent and the consistency is really good for my skin. It covers everything my skin needs and has a softening and nourishing and soothing effect. When I wake up in the morning I have the softest skin, a BEAUTIFUL feeling. I also use it occasionally as a cuticle balm where it works instantly.
Detox Body Exfoliator
I use it 1-2 weekly. It gently removes dead skin cells and stimulates blood circulation. I love using it because I can feel that my skin becomes so soft and makes my subsequent products penetrate better and at the same time it gives lots of glow and radiance. It also has a great scent of rosemary which fills my bathroom with pure well-being.
Bio-Balance (Discontinued)
I treat my skin from the inside out with these amazing tablets. Every night I take a tablet before bedtime. Vitamin B12 and stinging nettle balance my hormonal outbursts. Vitamins B12 and B6 are generally good for skin, hair and nails. The tablets contain magnesium, which especially in combination with B6 is soothing to the nerves, resulting in a good night's sleep. Probiotics are good for the intestinal and immune system. If the stomach is well, the rest of the body is in good condition, which is also shown on the skin
Healing Mint Balm
A healing balm used on lips, cuticles and irritated skin with wounds. I use it on my blemishes and after three days they are almost invisible. A little miracle balm. It has healing properties from, among other things, evening primrose and coconut oil. And then it smells nice and fresh of mint.
I have become completely obsessed with the new Precious series as my skin is delicate and at times has felt a little dry. Have I in the new series found the perfect match for my skin.
Especially Precious Premium Pearl day cream and Precious Diamond Drops serum have really managed to give my skin a satiety and a nice plump effect that is really visible and just feels absolutely amazing.
I just started with Precious Brilliant Night, which I warm up in my hands and massage in with the gua sha stone to get blood circulation going so my skin can really regenerate overnight. The best way to describe it is that my skin feels very grateful.
Two of my absolute favorite products are Oxygen Elixir and Deluxe Body Balm.
Oxygen Elixir
I use it as a serum when my skin needs an extra boost. It gives my skin an absolutely amazing glow, while smoothing and firming. I love using it as a 30-day cure where I can really see the effect of its properties but would also recommend it as a base before applying makeup. Your skin will feel silky soft and smooth and the makeup will be completely flawless.
Deluxe Body Balm
This nourishing and moisturizing body balm is for me the ultimate luxury, it melts into the skin and moisturizes my, sometimes dry, skin. I love using it in the morning after the bath, and even though it is a slightly "greasy" cream, it is absorbed quickly, so I do not have to worry about it staining my clothes. It has a wonderful scent of i.a. lavender, rose and geranium. I can also recommend it as extra care for hands and feet especially at night where it can really make a difference.
Bio-Lightning
No other hyper-pigmentation's product has ever worked so well for me as this one! Now is the perfect time of the year to begin. Begin using before the sunny season arrives. In this way you avoid the melanocyte cells from becoming hyper-active. Use all year round, every other evening under your night cream, while intensifying usage from March to September. This product also helps to lighten existing pigmentation spots. From September to March, you need only use on particularly stubborn areas. Remember to use SPF 50 everyday as well.
Keep Calm
It's a universal product! If you find yourself stranded on a deserted island, this is the cream you should have packed! I use this for my itchy hands, which get relief immediately from its effectiveness. I use it for Rosacea-eyes (when Rosacea has made the eye area red and irritated), or rosacea-complexion in general. Not to mention, other causes of dryness, irritation or eczema. Not many creams can handle all of this! I use it also as an after-sun product (in fact now while vacationing, my daughter has gotten sunburned). It's SOOOO good! I recommend it to anyone who has skin with issues! Sensitivity, intolerance to particular products, or itchy dry redness! The perfect winter solution for climate sensitive skin!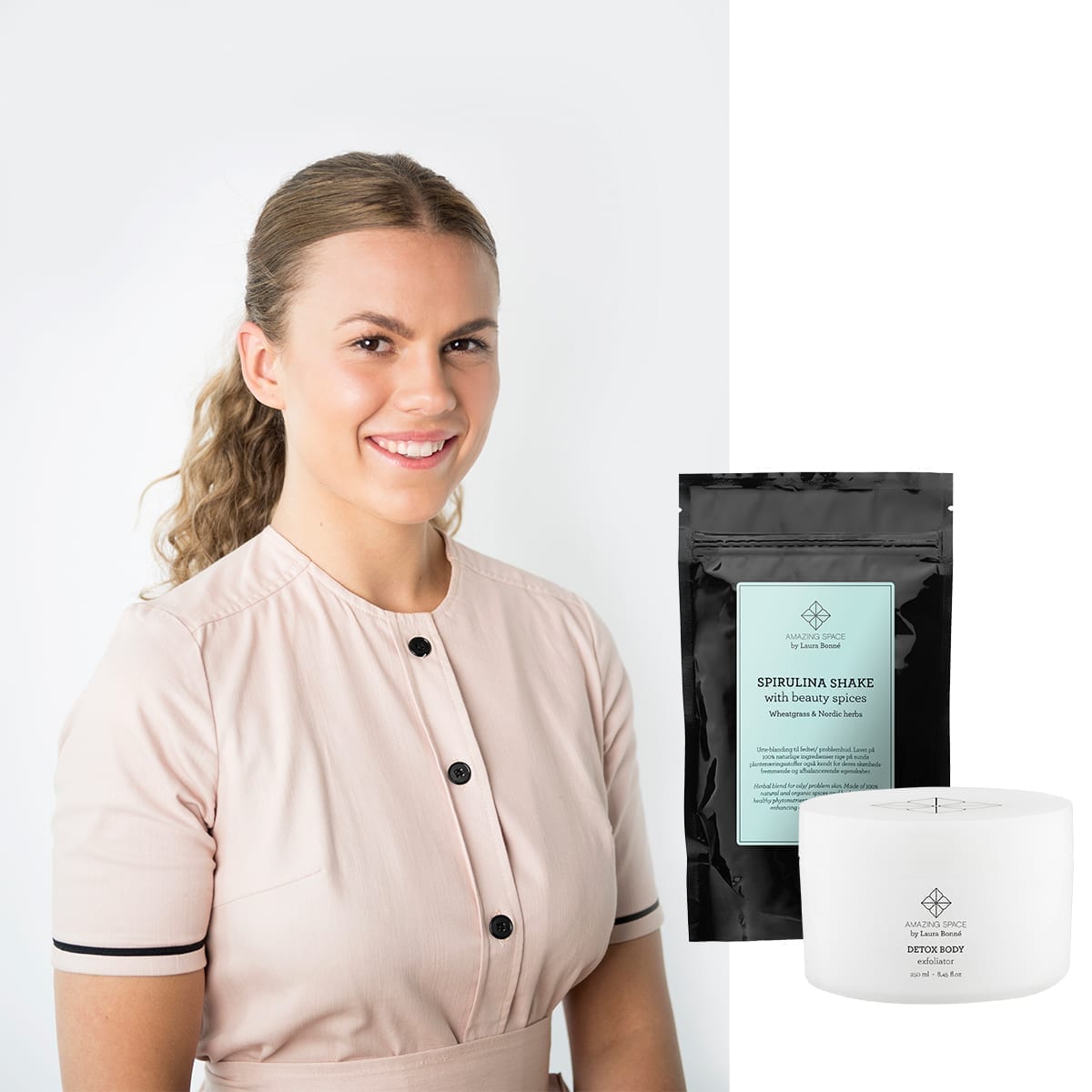 Spirulina Shake (Discontinued)
This shake with Nordic herbs such as, nettle powder, wheatgrass, and spirulina algae, cleanses the body from within. Simply blend 2 teaspoons in a smoothie or juice every morning, for an extra green & healthy 2020! Try it in our Green Goddess Smoothie ("Grøn Gudinde Smoothie") recipe found in Beauty Foods.
Detox Body Exfoliator
This body scrub cleanses the body with herbs such as rosemary and camphor, nurturing mango butter softens the skin, and crushed apricot kernels and rice powder sluff dead skin cells away. Apply and scrub onto lightly moistened skin 2 times a week.
Beauty Butter
So easy to use in the cold weather, as it simply repairs everything. Face, cuticles, hands, heels & elbows, all areas that are susceptible to the cold. It's a must have!
Ageless Body
The best deep skincare for dry winter legs. We all know the feeling of removing hosiery and leggings, and our legs are flaking away from dryness! Apply Ageless body (the body's answer to Beauty Sleep Mask) to the entire body, 2 times a week after bathing and leave on overnight. You will wake with the most delightfully softened skin!
Rosehip Repair
It is such a calming facial oil with nurturing and protective abilities. I use this as a protective veil for my skin, under my daily moisturizer.
Skin Food
It is so important to nurture the skin from the inside during the time where the weather is changing. It is rich in omega 3, 5, 6, 7 and 9, as well as antioxidants. Your skin will love you for it, being nourished and cared for, from both inside and out.