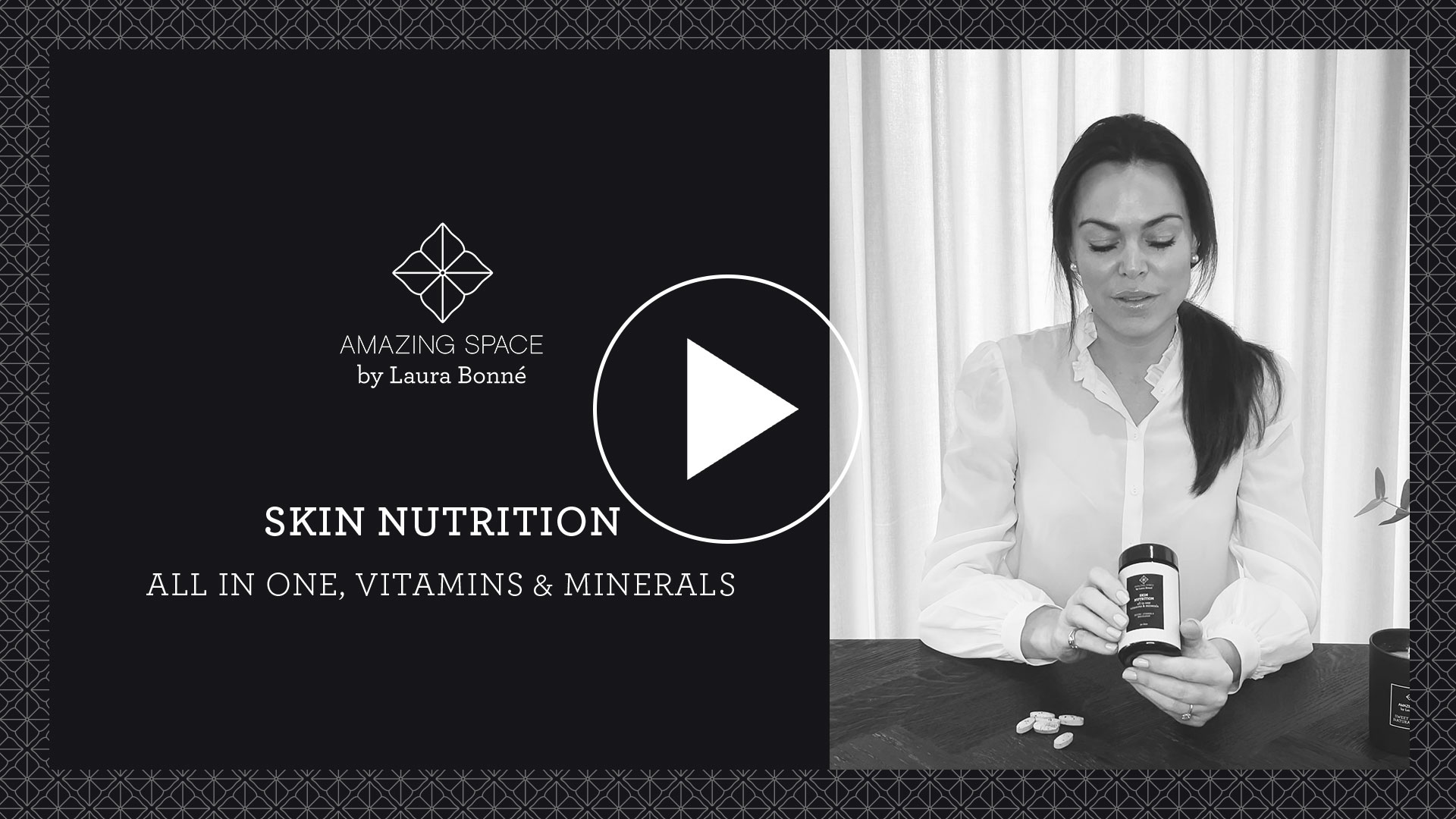 Our inner well-being is often overlooked and neglected in a beauty industry, where the products applied externally to the skin are often given the greatest value. However, the idea that we can segment the body in that way, is fundamentally wrong. The body is a holistic system – everything is interconnected, and the skin's radiance is mostly based on our inner well-being.
Buy Skin Nutrition – Click Here
The combination of our beauty care and supplements
One of the fundamental building blocks of Amazing Space is the principle that inner health and outer beauty go hand in hand, which is why organic vitamins, minerals, herbs and omega fatty acids are key words in our universe. Topically applied or ingested, the combination of our beauty care and supplements is the best way to achieve optimal, visible results.
"Inner and outer beauty go undeniably hand in hand."
Beauty depends on what you eat and drink
A significant part of your beauty and radiance depends on what you eat and drink. And it does not have to be rocket science to figure out what is best for you. Without huge efforts it is possible to accommodate your body's basic needs for vitamins, oils, minerals and antioxidants that make you look healthy and well groomed, and radiate abundance.
Our intake of food and drink is so vital to our appearance, because the skin is the last body part allowed to absorb the essential nutrients such as vitamins, minerals and fatty acids from the food we eat. In other words, it is your skin, hair and nails that get served in the very end when the nutrients are distributed around the body. This is why lack of healthy eating is so clearly visible in our appearance.
Even though we no longer experience serious deficiency diseases, we can still experience the result of a lack of healthy and varied diet such as lifeless, dull, problematic or blemished skin. Other signs are cellulitis, fluid in the body, dark circles around the eyes, split and thin hair, frayed nails and more. And who would not care?
Facts about The Skin Nutrition
The Skin Nutrition is designed as a treatment cure based on 1 tablet taken daily for 3 months. If you want to ensure that you get an even and optimal amount of vitamins and minerals, it is a good idea to have a vitamin and mineral supplement daily. Choose organic types to get the best quality and the greatest uptake in the body. Lack of different micronutrients can cause imbalances and skin problems. The tablet consists of all active vitamins, organically bound minerals and vegetable extracts designed to improve the skin and to help maintain skin condition and connective tissue.
Contains:
Vitamin A, B, C, D, E samt calcium, magnesium, iron, zink, copper, mangan, selen, chrom, molybdenum and iodine
Retinol tightens the elastic fibres, biotin promotes cell growth and resveratrol protects against free radical degradation
Organic extract from guarana, ginsing, ginger and royal gelly
The algaes chlorella and spirulina known for their detoxing effect